The 5 Best Weather Apps For iPhone, iPad And Android
It is good practice to be prepared if you know what the weather is going to be like before heading out. Previously, we rely on the television to get the latest weather updates, but with the advancement in technology, the information is at our fingertips. Advances in meteorology enabled weather forecasts to be delivered directly to our smartphone together with satellite imaging, and the information is more reliable than ever.
Here are the five best weather apps for you to stay up to date on the weather.
1. AccuWeather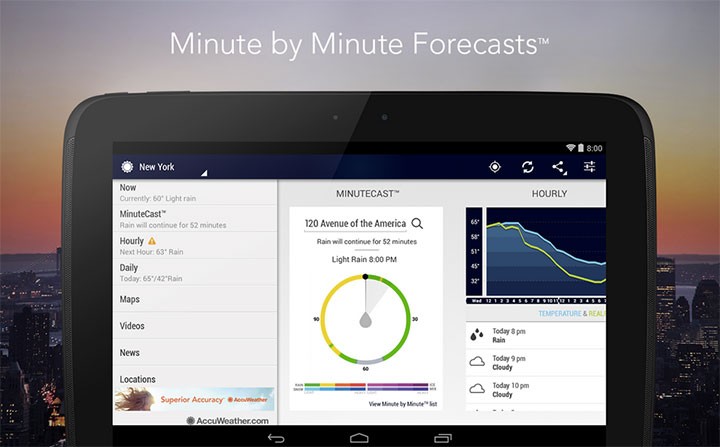 AccuWeather is a great weather app with professional design. The new MinuteCast feature provides minute-by-minute forecasts for the next two hours with better accuracy. There are also hourly, daily and 15-day weather forecasts so that you can plan your trips in advance. AccuWeather's reach is amazing, with over 3 million locations.
2. Yahoo! Weather
Yahoo! Weather not only boasts a beautiful interface, but provides an accurate weather information as well. The background shows an image of your location with detailed 5-days forecasts. There are information for pressure, wind, heat, and satellite maps together with interactive weather models.
3. The Weather Channel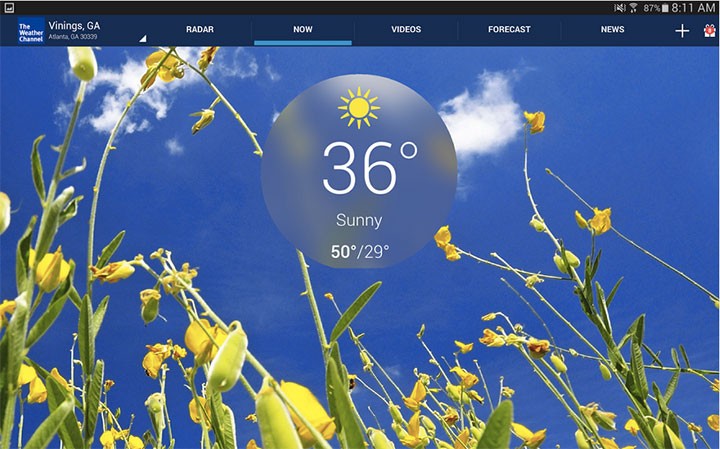 The Weather Channel provides a wealth of meteorological data like wind speed, temperature, visibility, snow cover on an hourly or daily basis and an extended 10-day forecast. One of this app's great feature not normally found on other apps is the weather map so that you will know the weather condition of nearby areas.
4. WeatherBug
WeatherBug provides accurate weather forecast with real-time-pin-point-forecasts and severe weather alerts, all localized through GPS. There is also a spark lightning proximity feature that turns your smartphone into a personal lightning detector as well as enhanced interactive maps and live weather cams across selected locations.
5. Weather Underground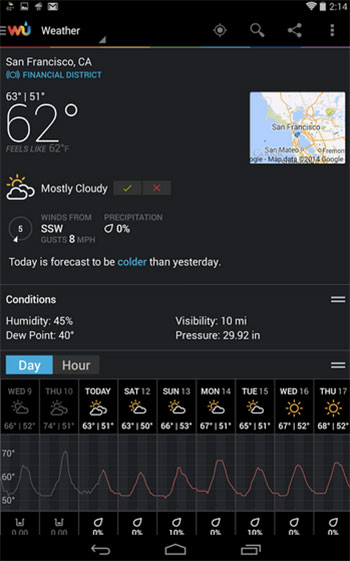 Powered by a unique community of weather enthusiasts, this crowd-sourced data generates forecasts targeted at your exact location. The crowd reporting features also allow you to verify reported forecasts as well as post your own sky and hazard reports. With a detailed weather map, a variety of information overlays could be applied.