The 5 Best Apps To Learn A Foreign Language For iPhone, iPad And Android
Learning a foreign language takes some determination, which is why constant practice is required to speed up the learning process. You can spend hours on books and listening to CDs in order to familiarize with the new tone, but why not use what is already available to you – your smartphone. Here are the five best apps for iPhone, iPad, and Android that you can easily integrate into your day-to-day routine.
1. Duolingo
Duolingo integrates fun activities into the learning process that introduces a gaming experience by awarding you experience points when answering questions correctly and awarding badges along the way. You can compare your progress with others on the leaderboard. It's amazing how fast you will be able to pick up a new language without you even realizing it. The app is completely free of charge and there are no ads getting in the way of your lessons.
2. Busuu
One of the core features of Busuu is the interactivity. You can practice with native speakers and apply what you have learned. Stay in touch with the service's community, so you can submit content to get feedback from others and help out by correcting others' mistakes. Busuu uses a number of approaches including multiple choice questions, fill-in-the-blank, image matching, and voice recognition. The core languages are covered for free using flashcards, but if you enjoy the service, you can access the premium service by paying a monthly or yearly subscription fee.
3. Memrise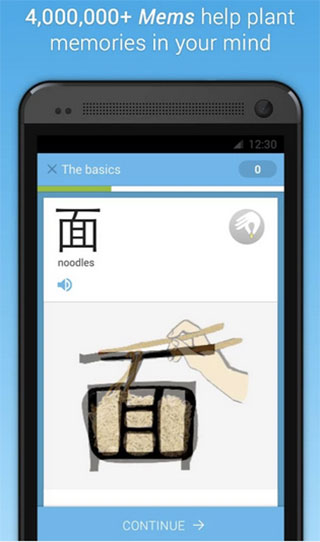 Memrise boasts a large selection of languages with over 200 to choose from. The app uses the planting analogy in learning a new language – plant, water, and grow. Initially, new memories are planted in your garden. Then it is watered and grow into long term memories. The simplistic visual aids as well as quizzes will help you to learn easier. Memrise is free to use but if you want to further your learning experience, the premium service is $5 a month or $30 a year.
4. Babbel
If you need a more serious approach to learning, Babbel is for you. It consists of virtual trainers and practicing words using speech recognition. There are also grammar exercises and quizzes for when you are on the go with only a few minutes to spare. The cost of the app may be a bit on the high side though, for $12.95 a month or $83.40 a year.
5. HelloTalk Language Exchange
HelloTalk Language Exchange is a language learning app with social networking capabilities. Every user can be both a student and a teacher. When you access the app, select your entry level then look for a stranger to talk to. You can type in your native language and they can use theirs, the app will translate or pronounce the sentences. There are filters to refine your search for languages and tutor age. HelloTalk helps to break down barriers between countries and that is what learning a new language is all about.