How to use WhatsApp Web on your PC
WhatsApp has over one billion active users, and is one of the most popular messaging app in the market. One of the reason it has remain so popular is because messages sent through WhatsApp are fully encrypted. Its end to end encryption with a unique key attached to each message ensures that only you (not even WhatsApp or any third party) can read the message as WhatsApp does not store any message on its server once it is delivered.
One interesting feature that has been around for awhile, though many users might not realise is WhatsApp Web. Yes, you can access WhatsApp right from your desktop in the comfort of your browser.
Using this social networking platform on a big screen has several advantages. Photos can be stored into a personal journal that can be shared with friends and by using WhatsApp Web, you will also have access to a physical keyboard which makes your text messaging much easier.
Supported Devices for WhatsApp Web
iPhone
Android
Windows Phone
BlackBerry
BlackBerry 10
Nokia S60
Steps to Setup WhatsApp Web
Step 1: Launch WhatsApp on your phone and go to more options (the three dots at the top right corner)
From the WhatsApp app on your phone, tap on the three dots that is located at the top right corner to open more options.

Step 2: Select WhatsApp Web
Select WhatsApp Web from the drop down menu.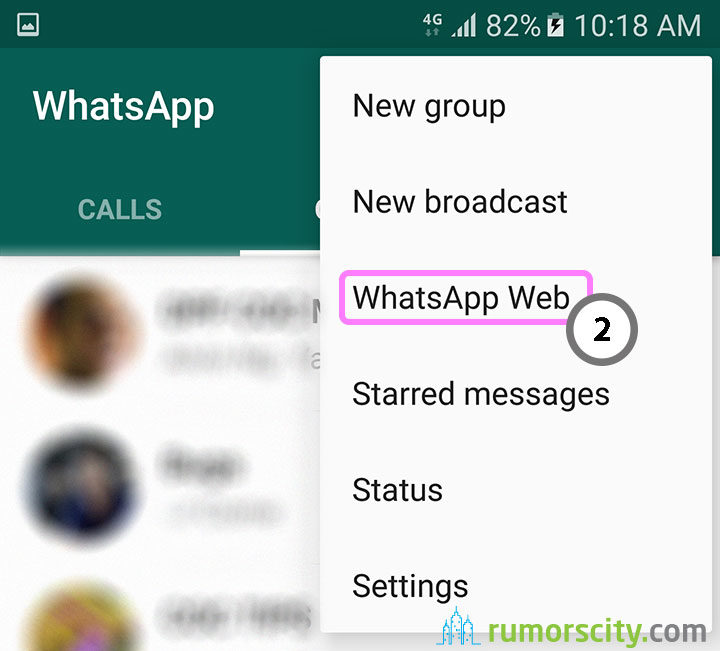 Step 3: Go to https://web/whatsapp/com
Your phone will ask you to visit https://web.whatsapp.com from your computer browser.
Note: You do not need to install any QR Code reader as the function is built into WhatsApp.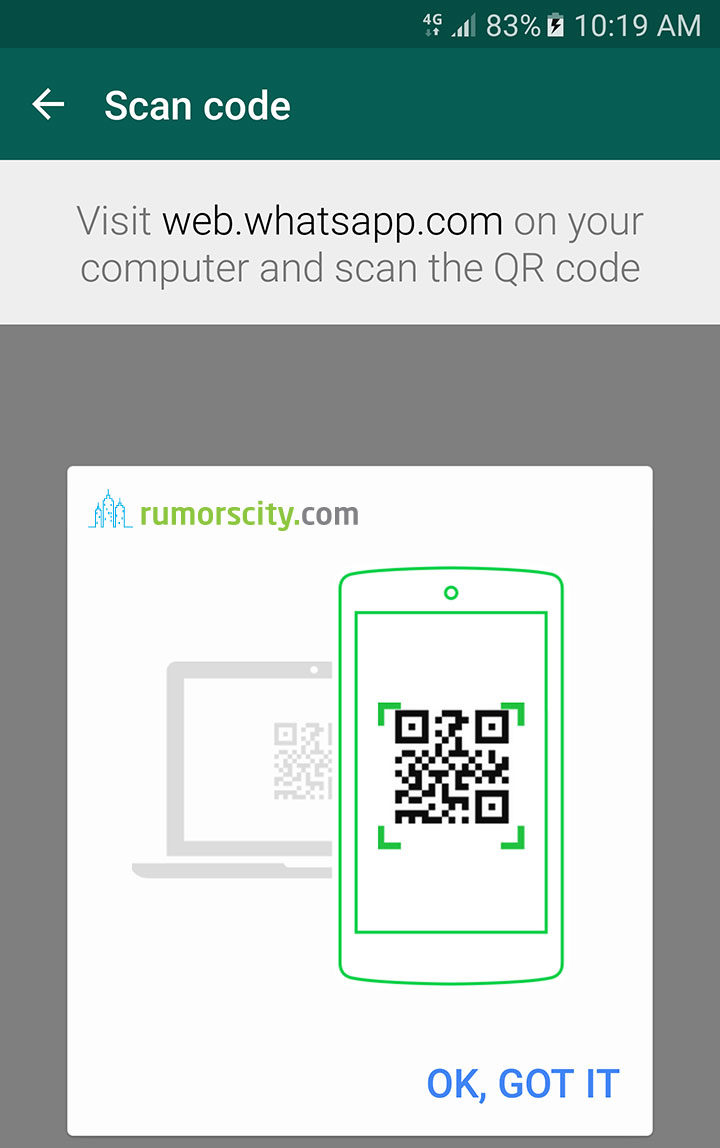 From your computer browser, go to https://web.whatsapp.com. You will see a QR code at this page that is dynamic and will change every few seconds.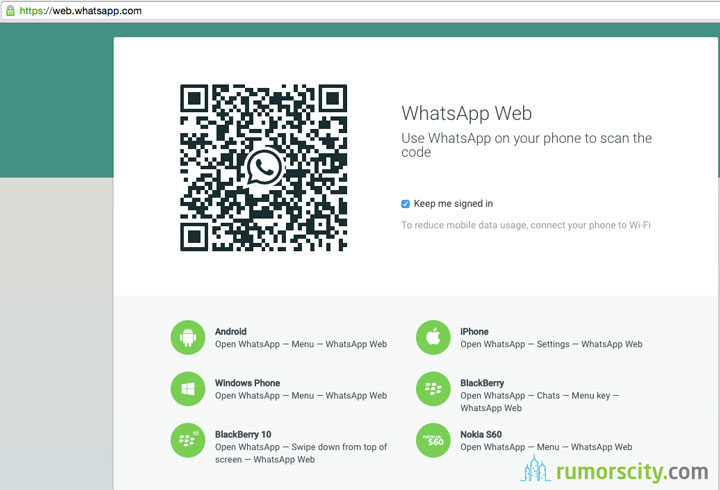 Step 4: Scan QR Code from your phone's WeChat app
Scan the QR Code on your computer browser to complete verification of WhatsApp Web.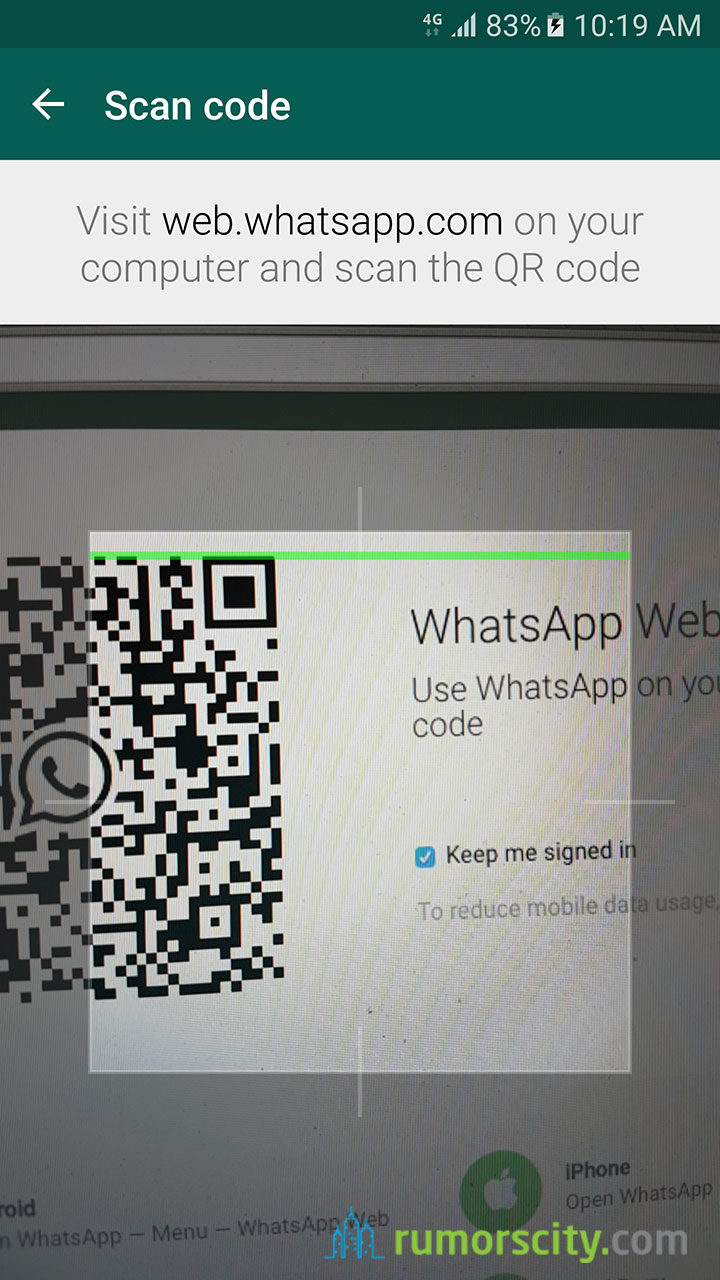 Step 5: Enjoy WhatsApp Web on your computer
Now you should have WhatsApp Web on your computer browser. Please do not forget to leave your WhatsApp app open on your phone. Have fun with WhatsApp Web!
Important: Leave WhatsApp Open on your Phone
Similar to Web WeChat, WhatsApp Web requires that you to login using your phone instead of the normal username and password login as you did on the phone.
This is because WhatsApp is an app for the phone and that all chats and other data are actually stored on your phone and not on WhatsApp server. That is to say, when you login with WhatsApp Web, your phone will function as the server and routed to your computer. So your phone does not only have to be on but also has an active internet in order for WhatsApp Web to function.
Let us know if you have any issue accessing WhatsApp Web.
You may also be interested with How to Use WeChat on your PC.