How To Find Your Lost Phone With Android Device Manager
Losing your mobile device is never a pleasant experience. That is why both iOS and Android has came out with tracking tools for such mishaps. Android Device Manager is Google's official tool that enables you to track and safe your devices remotely. Depending on the approvals you provide Android Device Manager in the Google settings application, you can follow your device, active them to ring, replace the lock code, and even fully wipe your gadgets through this handy little application.
New features to text or ring your missing device have recently been included so that if a person finds your mobile device, you can get in touch with them and warn them to return the device.
Android Device Manager is pre-installed on newer Android devices. If not, it is available for download in Play Store.
Android Device Manager requirements
Android 2.3 and above.
Device is linked to a Google account.
Internet access.
Allow Android Device Manager to locate your device (this option is turned on by default).
Allow Android Device Manager to lock your device and erase all data (this option is turned off by default).
How to track your lost Android device
Android Device Manager was in the Play Store since December 2013 and came pre-installed on newer devices. Since the locate your device option is turned on by default, tracking your device is rather easy.
Visit Android Device Manager from your browser and login to your Google account. Once the site is loaded, it will try to track your device. If there are more than one Android device linked to your Google account, select the correct device from the dropdown menu.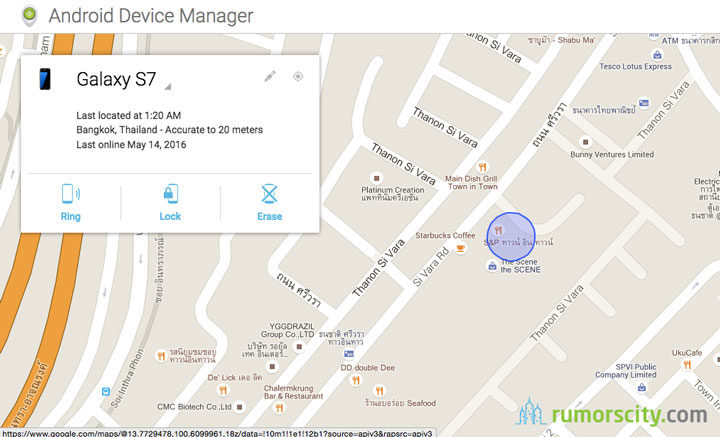 For each listed device, you will be able to see the last known place, the last time it was detected as being online and there are four actions that you can choose to perform:
Ring, which forces your mobile to ring at maximum volume for five minutes. This will function even if your mobile is set to vibrate or silent. A very handy feature considering that GPS location is usually rough approximations.
Locate Device, which tries to track the current location of your device.
Lock, which prompts for a password, then quickly locks the device with that password – even if someone is presently using it. The lock screen is safe from most third party lockers, so this feature is really helpful.
Erase, which is generally a delete button. It actives a factory reset on the gadget, erasing all photos, music, apps and settings. And if the gadget is not accessible when you release the command, it will happen the next time it comes online.
Can I locate the device if someone changed the sim card?
Even if someone took your phone and changed the sim card, you might still be able to locate it because changing the sim card does not disconnect it from the Google account. Android Device Manager will still be able to track your device provided that there is still an internet connection on your device.