How To Root Most Android Devices In One Click
Many Android users might think that rooting is complicated and it is a task meant for advanced users. But now, it has became a necessity to do so, be it to customize the device with beautiful fonts and themes, overclock or undervolt the device, hack games, move apps to SD card to free up memory space, or to install useful apps that can only be used on a rooted Android device like Titanium Backup and AdAway.
Last time, rooting can be quite time consuming and risky as each phone model have to be rooted in a different manner with a risk of bricking your device. However, there are much simpler ways now, and we will show you how easy it really is that you can basically root your device with just one click.
Pros and Cons of Rooting an Android Device
Pros: The benefit of rooting is that you would have removed all limitations on your Android device and acquires high level permissions to alter or replace system applications and settings.
Cons: Rooting will immediately void your phone's warranty, and there is the risk of bricking your phone.
How to Root your Android Devices in One Click
Using Kingo Android Root is one of the easiest way to root your Android device. Let me show you how simple it really is.
1. Getting ready your device and equipments
You will need these:
Windows-based computer with internet access
Android device to be rooted with at least 50% battery left
USB cable
2. Install Kingo
Kingo is free to download and can be found at the official website. After completed the download, install it on your computer and launch it. You will see the main interface as seen below.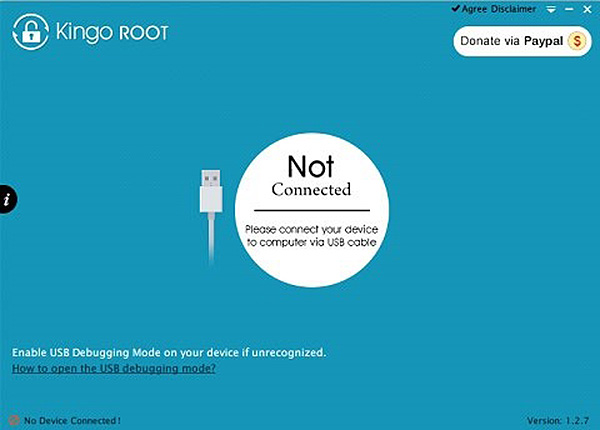 3. Enable USB Debugging on your Android device
In order to be able to one click root your Android device with Kingo Android Root, you will need to enable USB Debugging mode manually from your Android device. There is a tutorial here.
4. Connect your Android device to your PC via USB cable
Once connected, there will be a prompt on your Android device requesting permission for USB debugging from your computer. Tap on OK to confirm.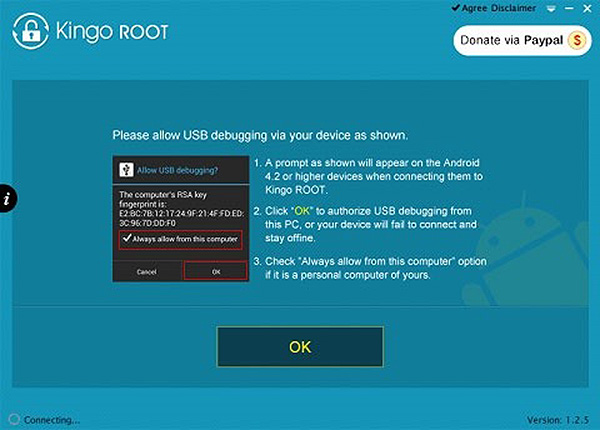 On your PC, Kingo will automatically detect your device model, and install the device driver (if it does not exist). Then you will see the root status of your Android device.
5. One Click Root your Android device
Read the notifications carefully and be aware of the advantages and disadvantages of rooting your Android device before proceeding. Once you are ready, click on the ROOT button and wait for awhile as Kingo will run the process to root your device.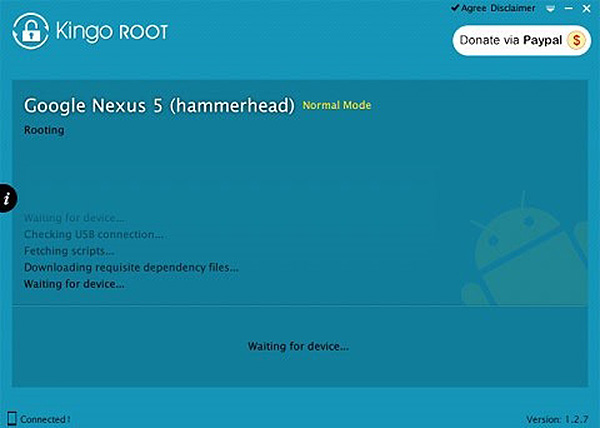 6. Root completed, click Finish to restart
Once Kingo Android Root has successfully rooted your Android device, it will prompt you to click Finish and reboot the device.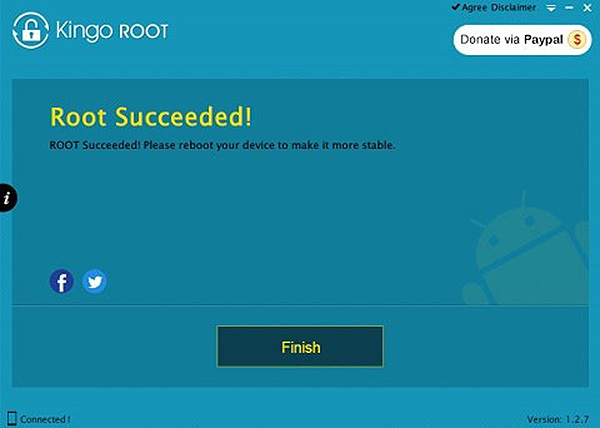 Note: Kingo can root most of the Android devices from different manufacturers and carriers. Though, it should not cause data loss, but things do happen and Kingo will not be responsible for any damage whatsoever.